If you want to get positive results from your digital organic and advertising campaigns on Google, you must first understand what your customers need, and secondly, match it with your promo activities.
Although measuring what your customers want can be difficult, tools like SE Ranking give marketers and advertisers the power to take user data and use it to get their web pages to show up in front of people who are likely to want it the most.
To achieve this, we use several Google Ads metrics along with our own algorithms to provide our customers with all the data they could possibly need to put together the perfect campaign for organic and paid search. 
By the time you finish reading this article, you'll be able to fully understand all the data that is offered to you in SE Ranking's SEO/PPC Competitor Research tool and will ultimately be able to use it to your competitive advantage.
Now, without further ado, let's get cracking!
Google Ads metrics
What is keyword search volume?
The search volume is an essential SEO metric that can help you understand how often a specific search term is being looked for by searchers each month in a specific country and search engine. 
In simple terms, the search volume lets you know how widely-used or popular a keyword is. The vast majority of SEO experts look at it to understand how well a keyword will work at promoting a web page in SERPs.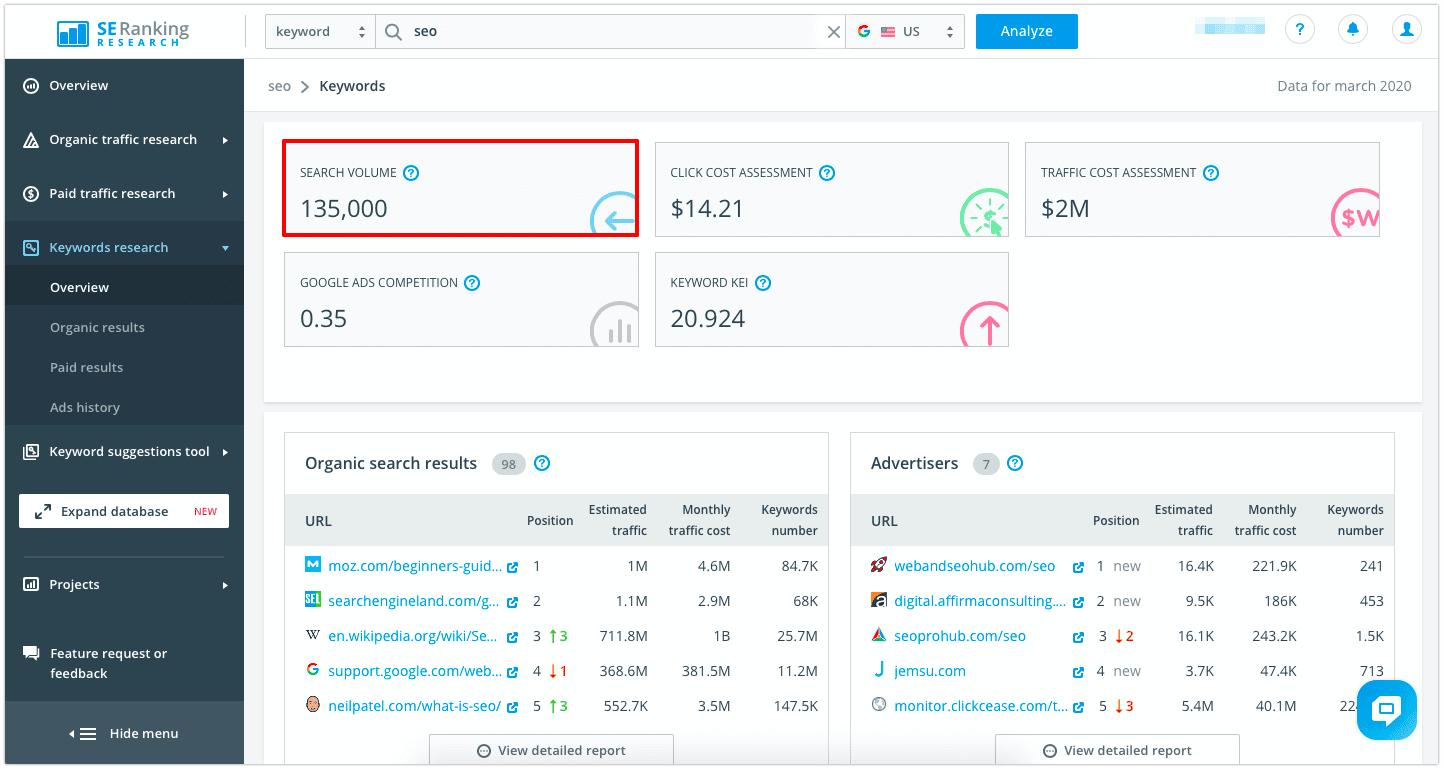 How is keyword search volume calculated?
SE Ranking uses two main sources for gathering keyword search volume data: Google and clickstream data. 
Google search volume
The initial search volume data that we get is calculated by Google. But as of 2016, Google stopped providing exact search volume data if you didn't spend a fortune in Google Ads. On top of that, Google buckets, or clusters, topically related keywords into groups and provides the same search volume data for the entire group. 
For example, Google provides the same search volume data for search terms like 'SEO' and 'search engine optimization'. But thanks to clickstream data and our algorithms, we are able specify the exact search volume of each keyword.
Clickstream data
Clickstream data is collected via browser extensions, plugins and other apps installed on computers and other browsing devices. As a rule, they ask your permission before collecting certain data. SE Ranking then aggregates data from all permitted sources.
How often is keyword search volume updated?
We update the search volume in an ongoing, continuous process that involves every country in our SEO/PPC Competitor Research database. But we don't update search volume data for every country database all at the same time. 
Typically, once we finish updating a database, we move on to the next one. As a result, we manage to fully update the search volume for each country database 2 to 3 times a year. You can, however, get more up-to-date rankings data upon request.
As of May 2020, Australia's database was fully updated in April…

…while the database for the USA was updated in March.

Note: We are planning to update the search volume sequentially for all countries that we have in the SEO/PPC Competitor Research tool in the future. Once we do, we will draw a vertical line on all graphs in the tool to indicate that the search volume has been updated. We'll tell you all about it in one of our traditional update blog posts.
What if there is no keyword search volume data?
We aim to check the search volume of every keyword in our database. However, some search terms have a very low (or practically no) search volume, and drive very little traffic because people typically don't tend to repeat the same unique, colloquial search. Such search terms can be found under the Long-tail keywords subtab of the Keyword suggestions tool: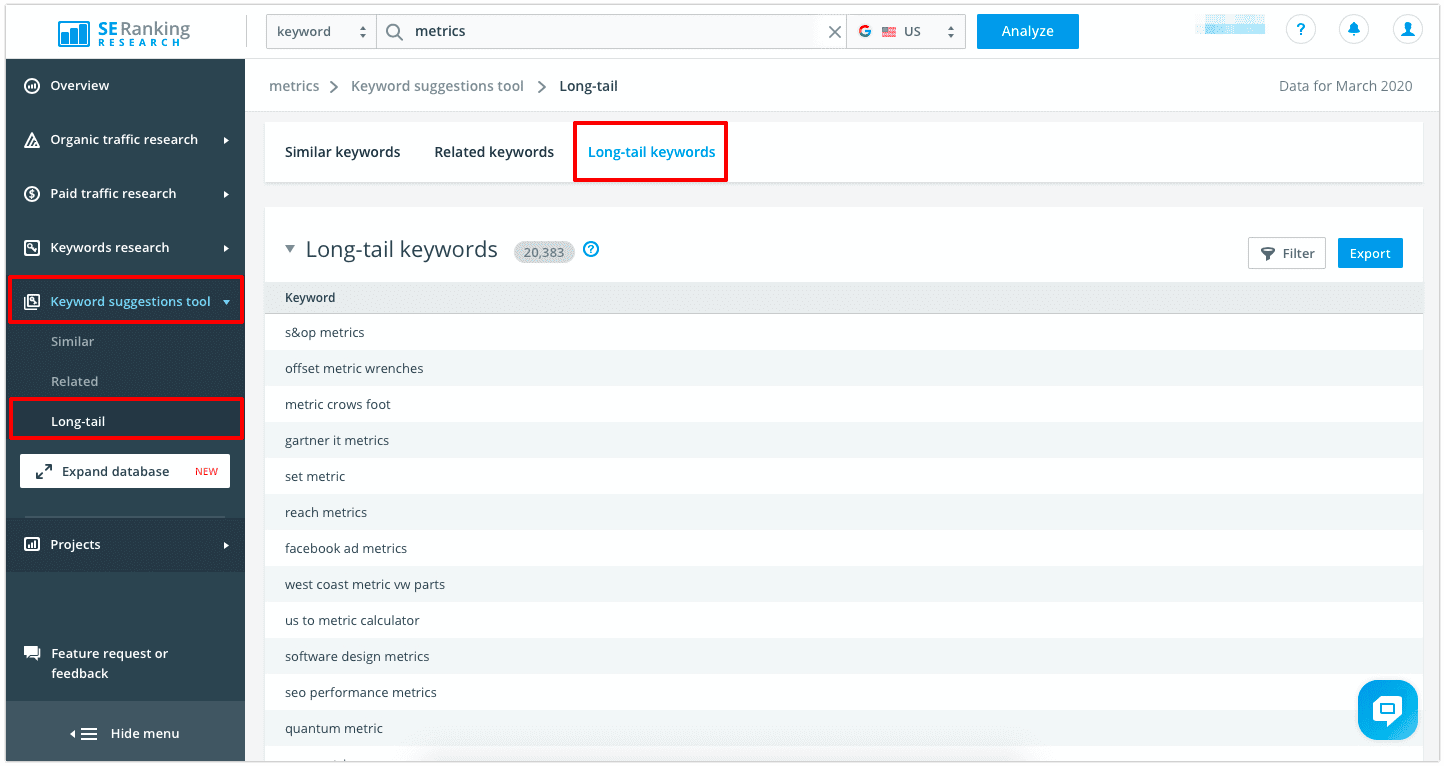 The list of long-tail keywords in SE Ranking contains Google's autocomplete search suggestions that consist of 3 to 5 words as well as keywords with a very low search volume. 
If you run out of keyword ideas from the Similar and Related keywords tabs, you should check long-tail keywords out to discover additional ways of expanding your semantic core. By the way, we will soon rename this tab to Low-search-volume keywords to better represent the search queries contained here.
Furthermore, if you work in a specific niche that our database doesn't have any keyword data on, you are welcome to upload a list of all of your search queries, and get all the information you need, including an in-depth overview of organic and paid traffic, search queries and competitor domains.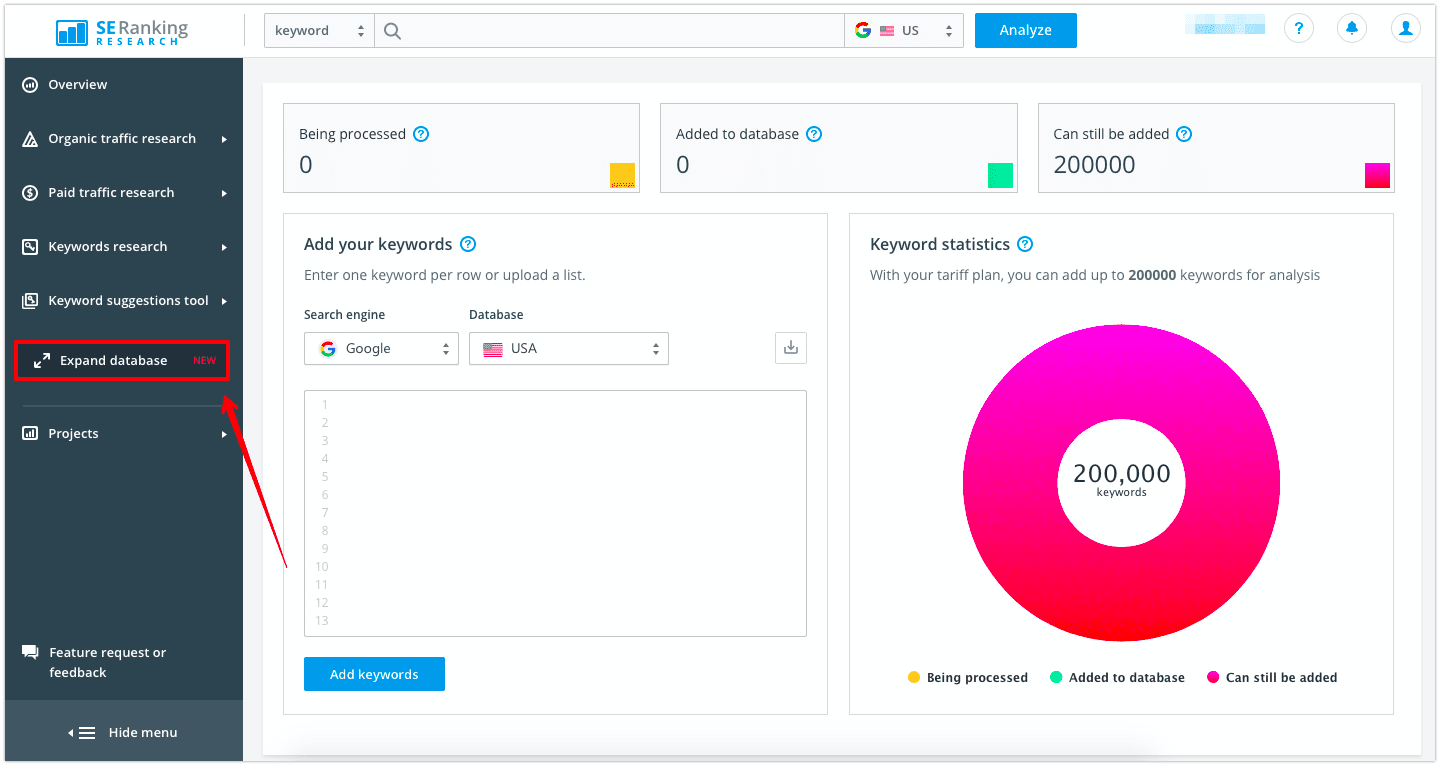 How can the keyword search volume help me?
Think of the keyword search volume as the potential number of people who are interested in a given topic and who you can drive to your site by targeting a specific search query. 
Keyword search volume matters because search engines like Google are one of the key drivers of new visitors and traffic to websites. It's crucial to target keywords in your content that actually have search volumes. Otherwise, no one will read your content, visit your site, and convert.
What is CPC (Cost Per Click)?
An important metric that helps advertisers understand a keyword's bidding environment on Google Ads, break down their budgets more effectively, and make sure that high-cost keywords aren't eating it up is the cost per click (CPC or click cost assessment). 
In other words, the cost per click refers to the actual price that has to be paid for each individual click in your PPC Google Ads campaign.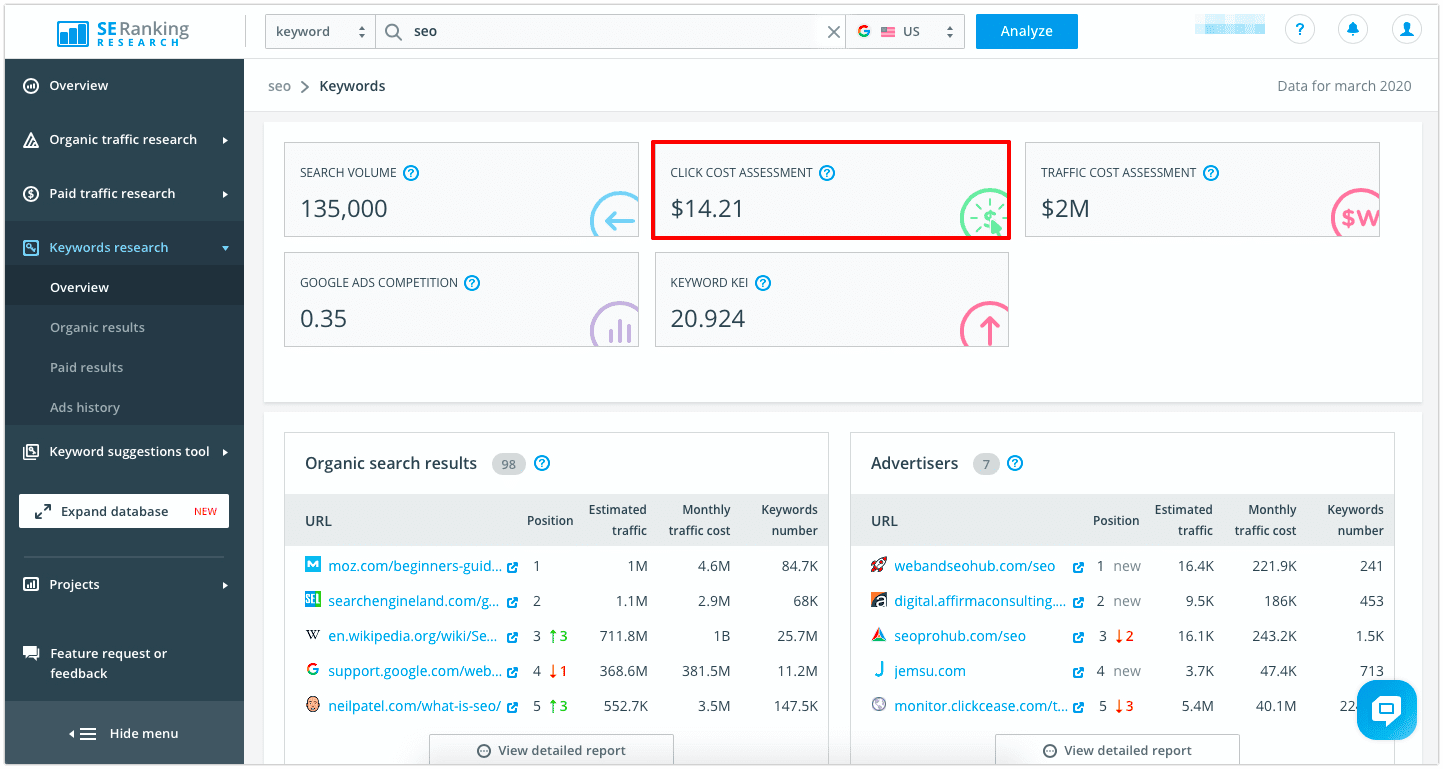 How is the Cost Per Click calculated?
The CPC data found in our platform is pulled directly from Google Ads along with the search volume and competition.
For more information on cost per click, check out Google's official documentation:
How can the Cost Per Click help me?
The cost per click is key because it helps you determine the financial success of your paid search campaigns, and how much it will cost you to use Google Ads. If you see that a certain keyword's CPC is higher than the possible ROI for that keyword, then you need to target keywords with a lower CPC.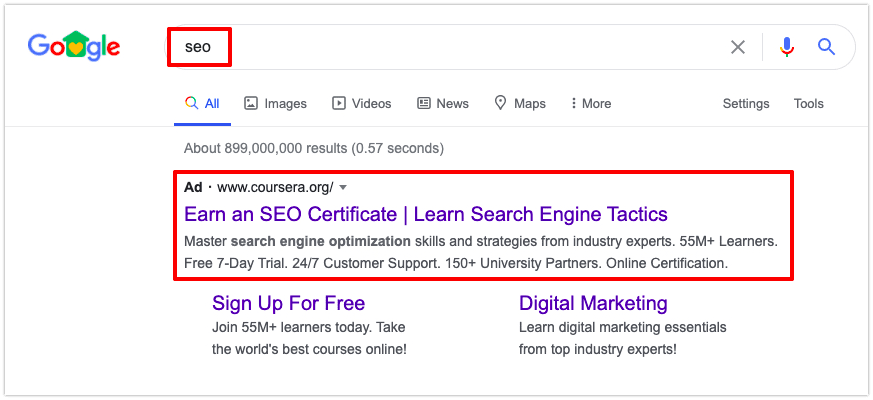 But even if you don't run any ads on Google, you can still take the CPC into account when devising your organic strategy to get a better understanding of how competitive each keyword SERP is. 
The CPC is often correlated with the search volume, as a lower search volume often means a clearer intent and a higher conversion rate. As a result, more companies typically want to get in on the action.
For example, if you decide to advertize a web page for the keyword 'SEO' in the US right now, your CPC bidding will start at $14.21, meaning that this is the minimum amount you'll have to pay to get in front of people's eyes. If the CPC is too high, then consider targeting other less popular keywords that won't break your budget.
What is Traffic Cost Assessment?
The traffic cost assessment, or traffic cost, is the estimated maximum cost of driving traffic to a website based on a keyword's CPC and search volume. 
It shows you how much it would cost to bid on all organic keywords of your website via PPC campaigns instead of aiming for organic rankings.

How is Traffic Cost Assessment calculated?
Let's say a website's organically ranking for several hundreds or thousands of keywords. In turn, each keyword has its own CPC value. So, what we do is multiply the total number of potential visitors by the cost of driving those visitors from Google Ads campaigns.

Ultimately, the resulting number—that's expressed in the equivalent of Google Ads prices—lets you know how much it would cost to bid on every organic keyword via a Google Ads pay-per-click campaign.
How can the Traffic Cost Assessment help me?
This metric offers an additional way of assessing a keyword's Ads competition and value. While the CPC shows the cost of driving a single user from Google, the Traffic Cost Assessment shows how much it will cost to drive all potential traffic for a given keyword from search via Ads to your site.
In terms of organic search, it also helps you understand the overall level of competition for a keyword, but it remains a primary metric that helps you plan out your Google Ads campaigns.
What is Competition?
According to Google, competition refers to the total number of advertisers who bid on each keyword in relation to all of the keywords present on Google in a specific country. 
Putting it in simple terms, it refers to the number of advertisers who are battling it out for a keyword.

How is Competition calculated?
We pull the Competition data directly from Google Ads that provides a general low-to-high quantitative guide to help users understand how competitive ad placement is for a particular search query.
If Google doesn't have enough data on a keyword, the dash (-) will be displayed in SE Ranking.
How can Competition help me?
Competition helps you understand whether the level of Google Ads competition for your keywords is low, medium, or high. The higher the number is, the tougher and more expensive it will be to squeeze your web page into the SERPs via Google Ads. 
If a search term has a high level of competition, advertisers may often need to place higher bids to get better ad ranking spots. But, as a result, the keyword CPC may also be higher. 
On the other hand, if the competition is low, meaning not many people are bidding on a keyword, you may not be required to spend huge sums of money to win. This, in turn, also depends on the analyzed keyword's search volume.
So, we suggest you check your keyword competition before running any ads and use the available data to understand how to best allocate your campaign budget. 
What is Keyword KEI?
Keyword KEI (Keyword Effectiveness Index or Keyword Efficiency Index) gives you a rough idea of how easy it will be to rank for a particular keyword in organic search.

How is Keyword KEI calculated?
There are many ways of calculating it, but, in short, the formula is based on a keyword's search volume and the total number of web pages ranking in a specific keyword's SERP (aka Sites in SERPs).

The higher a keyword's KEI is, the better results it will potentially bring from organic search. But the KEI will become lower if Google decides that more web pages are relevant for a given keyword.
How can Keyword KEI help me?
Keyword KEI helps you pin down search terms that will be most effective at driving search traffic. Using this metric, you can scratch ineffective keywords from your campaign and replace them with those that are more likely to drive organic traffic.
Note that you need to take this metric with a grain of salt, as it is largely considered to be a deeply flawed gimmick, and we are planning to take it down in the near future.
Other indexes and data points
What is Sites in SERPs?
Sites in SERPs is an index that shows you the total number of web pages that Google displays in search for a keyword in a specific country.

For example, below you can see the total number of results for the search term 'Nike shoes'. It represents the number of documents—or web pages—that have been indexed by Google and that are relevant to the requested search query from the search giant's point of view.

However, some of the pages displayed in the SERPs may not be accessible from the search results at all, plus the Sites in SERPs index only gives you a rough idea of how many pages might have information related to the search. 
How is Sites in SERPs calculated?
SE Ranking pulls the Sites in SERPs data directly from Google. However, this index provides approximate data and may provide different results for the same search query in the same location, as Google tends to take your personal search history into account when providing search results.
How can Sites in SERPs help me?
The purpose of this index is to give you a general idea of how competitive the organic SERP is for a certain search query. Use it to get a feel of how many sites come up in search for a specific topic, which, in turn, gives you a rough idea of how many web pages you are going up against—aka your competition. 
You can also use this data to understand the search query itself and find out if it's general or specific. For example, if you see a lot of sites in the SERP, you can narrow down the search to find a more specific search query to target. On the flipside, if you don't see too many results, then you already have a pretty narrow search term. 
As a standalone metric, the Sites in SERPs isn't that informative, but if you compare it with different keywords, then it'll be easier for you to find out which ones are most promising.
What is Paid keywords?
The total number of paid keywords is an index that lets you know how many keywords feature paid ads among their search results.
As in the keywords that other websites decided to bid on via Google Ads campaigns.

How is Paid keywords calculated?
SE Ranking has over 70 keyword databases from across the globe in its SEO/PPC Competitor Research tool. Each one of these databases contains keywords that are being searched for—as in they have a search volume. Our system uses this list of keywords to scan Google and identify the keywords that advertisers decided to run ads for.
When you start analyzing a domain, SE Ranking goes through the entire database and looks to see if there are any previous records of the analyzed domain. More specifically, it looks for all the keywords that the analyzed domain or web page was displayed in search for, and then provides you with the full list of such keywords. 
Paid keyword data is updated once a month at the same time that we update keyword rankings data. When we update rankings, we update the top results for each keyword as well. Ultimately, the number of paid keywords changes along with the traffic volume and cost calculations.
How can Paid keywords help me?
If you don't know what keywords a website is ranking for, you can enter any domain into the system and discover all of the keywords the analyzed web page or domain ranks for in paid search. 
For example, if you notice that one of your top competitors has a strong PPC presence, then you need to step up and improve your own game by targeting more keywords via Google Ads. 
What is Ad variations?
Ad variation is a Google Ads interface feature that enables you to try out different options of your ad copies. After all, creating better ads is an important step to the success of any advertising campaign.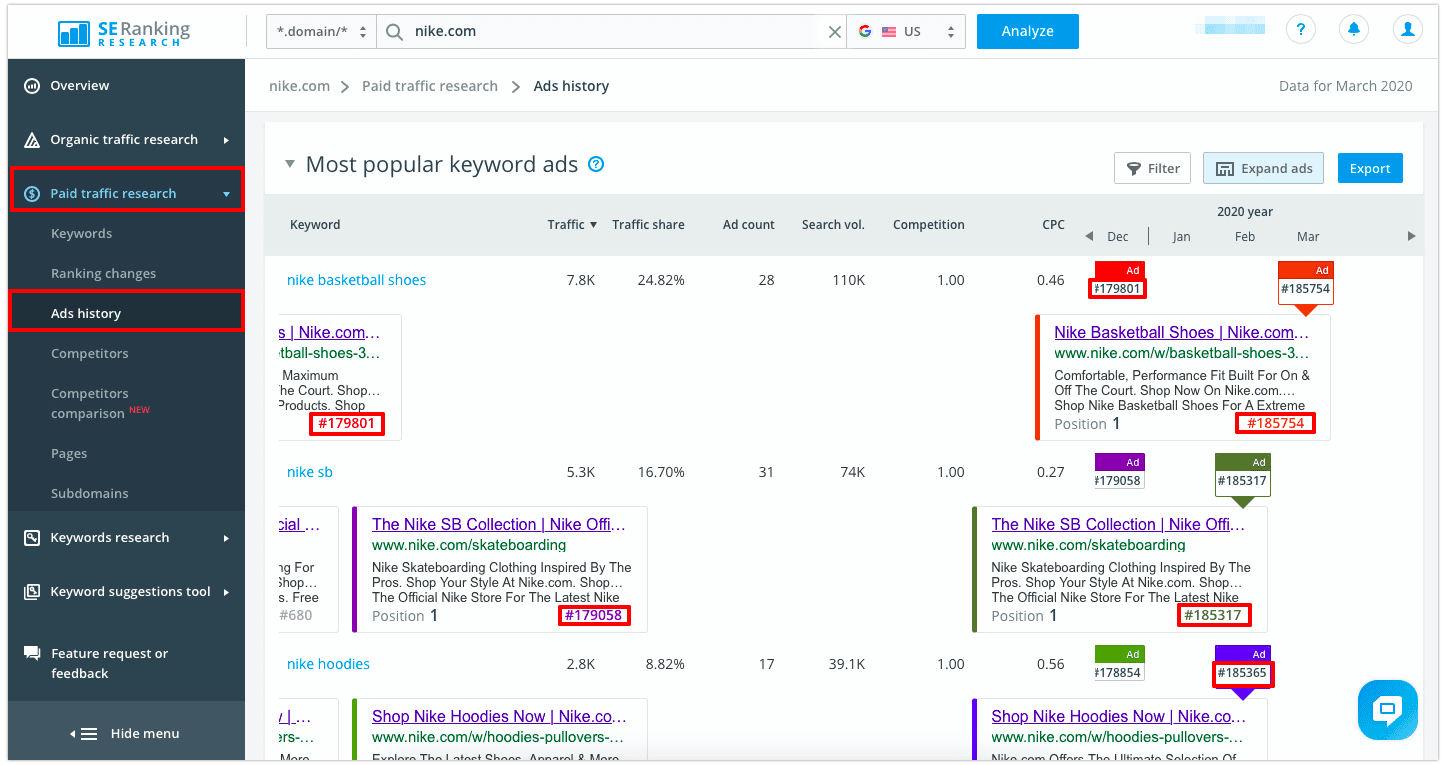 How do Ad variations work?
When you create a new Google Ads advert for your domain, we create an ad variation in SE Ranking. 
For example, last month you ran your first ad on Google with the copy 'used car for sale'. This is ad variation #1 for your entire domain, not a specific web page. Then next month you decided to specify the text and updated it to 'used Tesla for sale'. As a result, ad variation #2 is created. Then, if you decide to go back to the previous copy option, the system will spot this and will let you know that you went back to ad variation #1.
The ad variation count applies to each domain separately, meaning that if you use the same copy as a competitor in your ads, the system will still mark it as a new ad variation for your domain.
How is Ad variation data collected?
It must be noted that when collecting data for this metric, our system pulls Google Ads data from capitals or big cities to represent individual countries. Let me shed some light on that. 
Say you wanted to see all the ads that Nike is running in the United States. The problem is that we can't really give you that data because we don't collect nation-wide data. Instead, we take one city, which is New York in the case of the United States, and show you all the ads that are running there.
If an ad is targeting all of the US, you will see it in SE Ranking. If it is targeting New York, you will see it too. But if you want to get data for California or Los Angeles, you have to reach out to our support team to get the necessary data. Due to the load, we can only pull such data upon request. 
How can Ad variation help me?
Besides giving you the option to go back in time and analyze all of your competitors' ads, this feature allows you to filter ads by ad variation and find out if the same copy was used in the past or on different web pages of the same domain.
For example, if a website used the same ad for its Black Friday campaign in 2018 and 2019, you'll be able to see this and get a preview of the exact copy they used, although this is rarely the case.
To find out more, check out what Google has to say about ad variations.
Closing thoughts
Let me know if you have any questions about any metrics, indexes or data points you found in SE Ranking and I'll be sure to expand this blog post to cover all of the information you need. 
If you need some additional help, you can always check out our Knowledge Base or reach out to our support team via live chat!
Post Views: 1,532