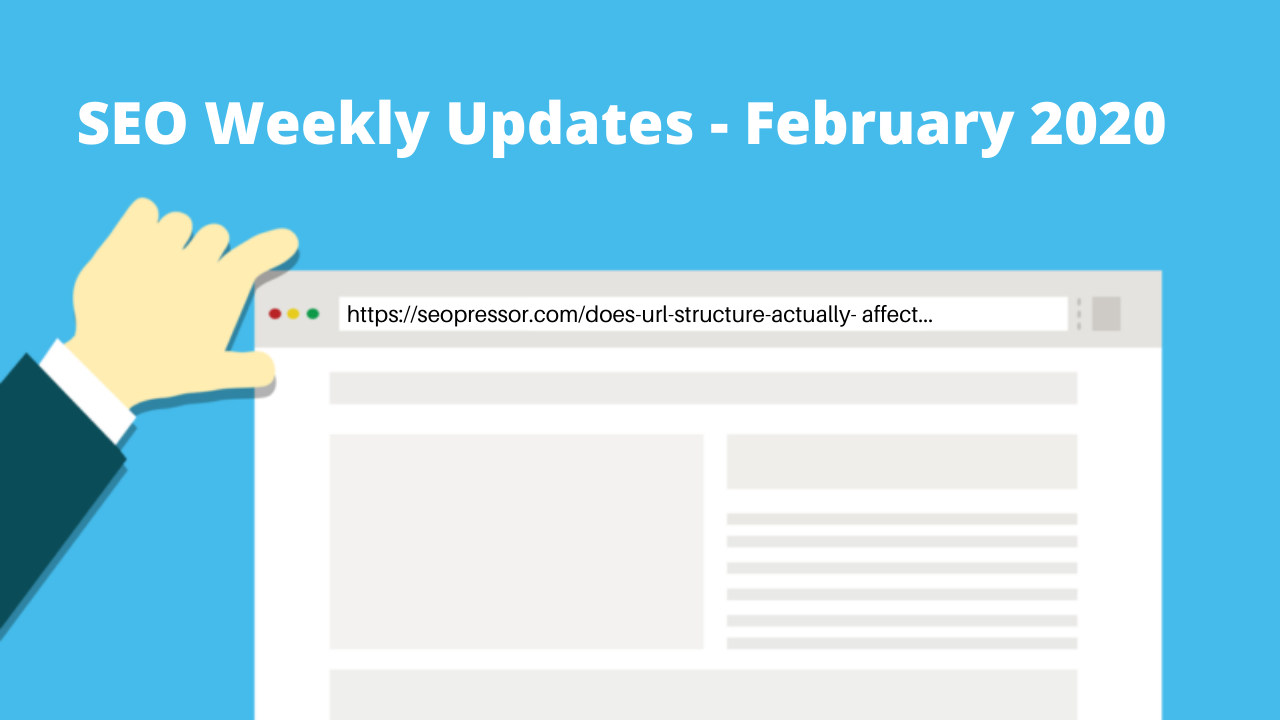 Google said URL length is not a ranking factor and there's a claim my business option despite having already claimed the Google My Business listing? The start of February sees some pretty confusing news, so let's get into it.
Google Announcements
5/2/2020 – URL Length is not a Ranking Factor?
Google's John Mueller has said on Twitter that URL length is not a ranking fraction. This is his exact tweet and it was a response to a user's concern about CMS autogenerate URL often being longer than what is recommended for SEO.
@JohnMu A lot of our automatically generated URLs are longer than most SEOs recommend. It only applies to not very important pages, but I wonder how bad this is in Google's eyes all the same.

— Per-Erik Skramstad (@perskram) February 5, 2020
Yes, Google can handle URLs as long as 2000 characters or so, but it's pretty obvious that Google prefers short URLs when it comes to ranking. Besides, keeping your URL short and sweet can only create a positive impact as fewer words will make it more specifically relevant. Seems we are not on the same boat with John this time.
11/2/2020 – GSC- Review Snippet Enhancement Report
On February 11, 2020, Google Webmasters shared on Twitter that they're introducing support for review snippets in Google Search Console. It's introduced to help you find issues with your implementation and monitor how rich result type improves your performance.
For your information, according to Google's Webmaster blog, the review snippet is one of the most used structured data.
So, here's what the reports look like:
Review Snippet Enhancement Report
The report allows you to see errors, warnings, and valid pages for markup implemented on your site.
In addition to that, if you fix any issue, you can use the report to validate it, which triggers a process where Google recrawls your affected pages.
Review Snippet Appearance in Performance Report
The performance report in GSC now shows the performance of reviews or rating marked-up pages.
Lastly, after adding review snippets structured data to your pages, you can test them using Google's Rich Results Test Tool. Aimed to make it easier for you to understand how your marked-up page performs on Search.
The reports and test tool will definitely be helpful for fellow webmasters who use these markups. Try the test tool here: Google's Rich Results Test
19/2/2020 – GSC – New improvements to the Change of Address tool
The Google Webmasters official Twitter announced some new improvements to the Change of Address tool in Google Search Console.
New improvements to the Google Search Console Change of Address tool 🎊
✔️ Redirect validation for top 5 URLs of the moving domain.
✔️ Reminders on top of both the moving domain and the destination domain.
📖 Learn more about the tool https://t.co/RJxiJeQRjl pic.twitter.com/FEfNS9VUhd

— Google Webmasters (@googlewmc) February 18, 2020
This is a useful tool for websites migrating from one URL to another while still maintaining their keyword rankings. With the help of this tool, Google will migrate your keyword rankings from the old URL to the new URL as well.
This is however, not for https migration. Those looking for Google's official stance and guidance on HTTPS migration can find it here.
27/2/2020 – Google announced all sites to be switched to Mobile-First Indexing within 6 to 12 Months
Google revealed that it is going to be prioritizing Mobile-First Indexing soon.
In notifications to website owners about the mobile-first indexing issues detected on site, Google said that it expects users "to apply mobile-first indexing to all websites in the next six to twelve months."
Here is a screenshot of the notification: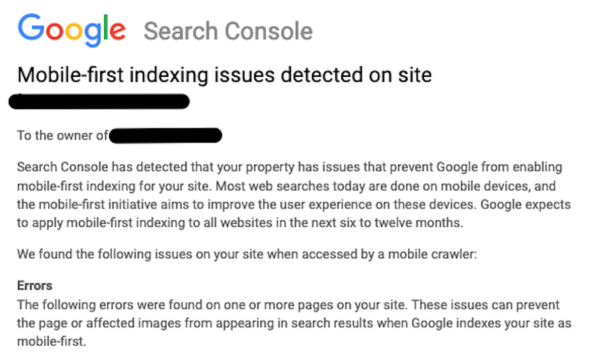 So yes, probably by the end of this year, all indexing will be done using mobile-first indexing at Google. So it's time to make the switch, and here're some tips to make your website more mobile-friendly while you are at it.
SERP Updates
6/2/2020 – Is Google Testing a New Open Design?
Since Google reported that it will be doing some tests to the search results page in the upcoming weeks, some people have spotted what seems like Google's new test of a more open-style search results page design. In fact, the new SERP listing follows a design similar to AMP articles. Here's a screenshot
The new SERP listing follows a design similar to AMP articles. Here's a screenshot

12/02/2020 – Image Carousel in Featured Snippet
Maybe some of us have seen an image carousel in a featured snippet before. We have seen them before too. Google has been testing them for quite some time and it seems like it's staying on the SERP.
If you have not seen it before, here's how it looks:

27/2/2020 – Google Testing Huge Image and AMP Pages Placement in Desktop SERP
Christian on Twitter shared a new test Google doing on the SERP that he stumbled across.
Google testing huge images on SERPs, linking directly to AMP version even on desktop #AMP #SEO ⬇️ pic.twitter.com/xN7PZ62JyR

— Christian Oliveira (@christian_wilde) February 19, 2020
AMP pages, which were previously only served at the AMP carousel and mobile results is now being served on desktop SERP as well. Is this related to mobile-first indexing? Is this just another Google effort in pushing the adoption of the AMP format?
We can't be sure. And no Googler replied to this matter as well.
27/2/2020 – Google Introducing New Info Badges to Image Search
Google tweeted this week that it will be making updates to the way image searches are displayed. The new display will show Google Images having new icons on the desktop, providing users with additional information to indicate if images lead to pages with products for sale, recipes, or video content.
"This tells people that license information is available for the image and provides a link to the license in the Image Viewer, which offers more detail on how someone can use the image," Google explained on its developer's page.
For now, here's how it will look like.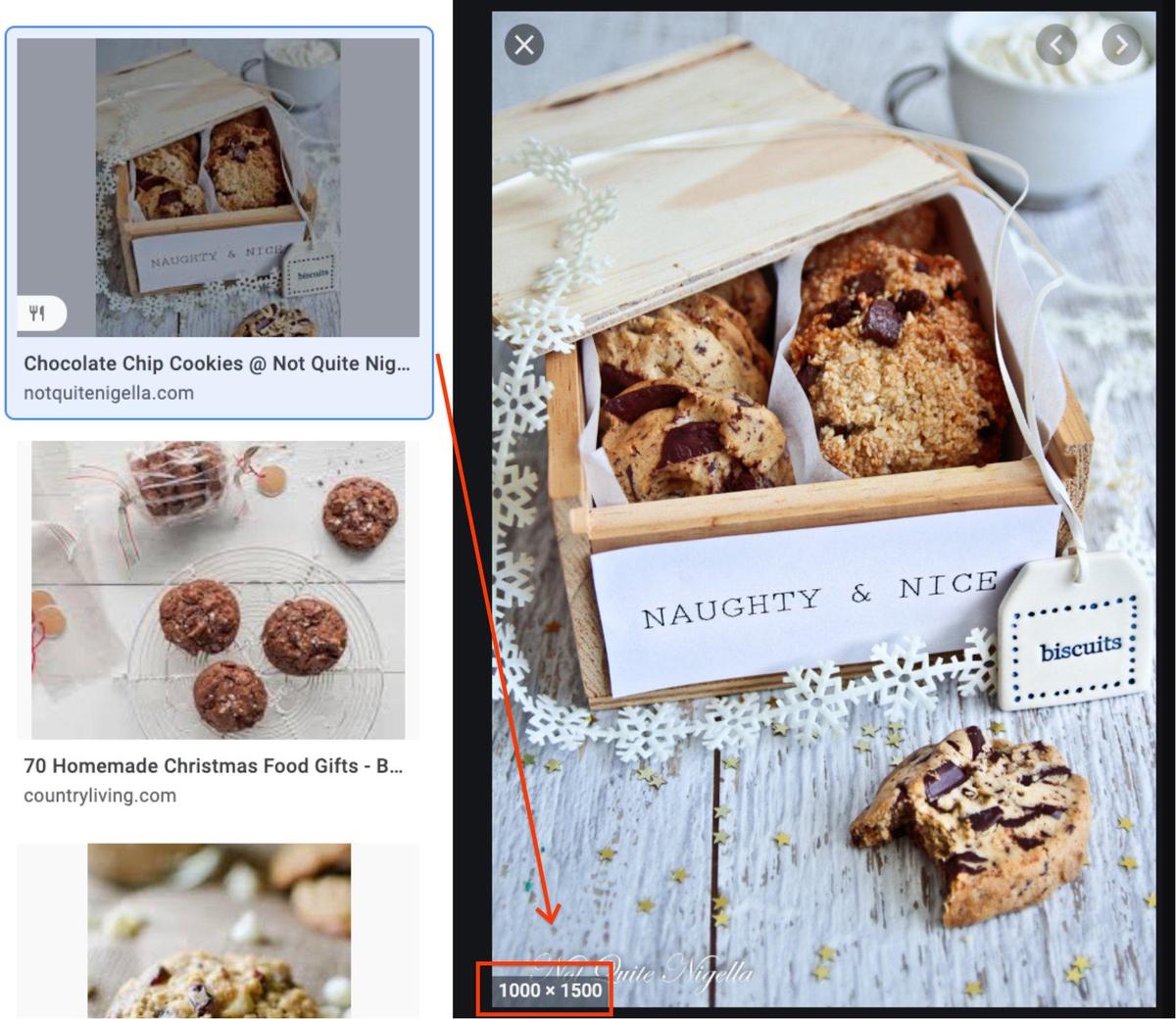 Local SEO Updates
6/2/2020 – New Google My Business Feature: Own This Business? Claim It Now
Users have spotted Google launched a new feature (or it could still be in its testing phase) a new feature to help business owners reclaim and login to their Google My Business listing.
The confusing thing about this is that it shows up even if the listing has already been claimed ?! Krystal Taing went to Twitter to explain that this function is intended to be an easier path to begin claiming process for users that have mislocated their account info.
For anyone beginning to see this on your listings, it is a new #GMB feature. It does not mean your listing is unclaimed but is intended as an easier path to begin the claiming process for users that may have mislocated their account info. https://t.co/eyYxjfEAOw

— Krystal Taing (@krystal_taing) January 30, 2020
20/2/2020 – Keyword in Google My Business Description CAN Boast Ranking
Brodie on Twitter noticed that the Google My Business (GMB) document was updated, with an example highlighting how providing a more specific and accurate keyword, in this example "Dublin, CA" instead of just "CA" can help users find your GMB easier. That specific sentence is now removed.
Well, that changes things for local SEO.

There's now a section in the support doc saying that if you add keywords to your Google My Business description, it will result in higher visibility.

h/t @StefanSomborac @YanGilbertSEO for pointing this out: https://t.co/gLF9WfjhmM pic.twitter.com/5as7mpPgs3

— Brodie Clark (@brodieseo) February 12, 2020
However, the Google My Business official Twitter actually replied and affirmed that the example is accurate. Though they also played the card saying it "could" help your ranking, not making it 100%.
Hi there! The information in question is accurate. While it's not guaranteed to improve the ranking, it could, depending on other factors, as well as information that is found online associated with the business. Send us a DM if you have any questions. Thanks! -Brad

— Google My Business (@GoogleMyBiz) February 19, 2020
Which means, folks, you better bulk up on your location keyword in your GMB description.
Other Interesting News
By Google: Simple Tips To Stay Safe Online
Yesterday, Google created a Twitter thread on how to strengthen your online security. Here are the steps and brief explanation provided:

Firstly, set up a recovery phone number or email address. This keeps your account more secure and alerts you if there's any suspicious activity. Next, most people struggle to manage passwords, so… use a password manager.
Now, the third one is what most of us are guilty of doing: which is clicking "remind me later". Doing so actually opens you up to newly-discovered vulnerabilities. So, take the time to keep your software up to date to ensure you're more secure.
Setting up a two-factor authentication also helps you defend against hackers as it makes it harder to gain unauthorized access.
Last but not least, take a Security Checkup by Google. It's a tool that gives you personalized and actionable recommendations to help you strengthen the security of your Google Account.
Now you know these tips, the next question for you is, will you implement them?
21/2/2020 – Better Business Bureau rating is not a ranking factor
During the SMX (Search Marketing Expo & Conference Series) that's happening right now, a keynote speaker shared that Google uses third party review sites, like the Better Business Bureau ratings as a ranking factor. Which is quickly denied by Danny Sullivan who is with Google.
No, we don't use BBB ratings as a ranking factor.

— Danny Sullivan (@dannysullivan) February 20, 2020
The speaker that shared this is from the Bruce Clay, Inc. a big Search Engine Marketing Firm.
Bruce elaborated on his point on why he mentioned the Better Business Bureau at all, relating it to the trust factor, and since trust has impact on the SERP, so does the Better Business Bureau ratings.
Hi Danny, I did not mean to say the BBB was a ranking factor. I meant to say it was a trust factor. And trust impacts rankings as we understand it. We have a 3-for-3 correlation between a F-rating and a crash. Please confirm that in no way would poor trust matter.

— Bruce Clay (@bruce_clay) February 21, 2020
Danny maintained that Google does not have a single "trust" factor and any third party review sites have nothing to do with that.
My verdict? Having a good Better Business Bureau rating is still good to your business when some potential clients go searching for your business online, ranking factor or not.
Updated: 28 June 2020